Example of adoption in the sushi industry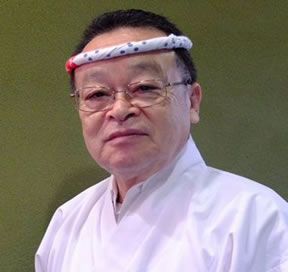 Representative Director Sushi Skills Institute Japan
Masayoshi Kazato, Owner of Sakaezushi in Mihama Ward, Chiba City
As has been said, "Sixty percent of the taste of sushi is the rice"; we place greater importance on rice. Coating the gelatinized surface of cooked rice grains with vinegar provides an antibacterial effect for the combination of the sushi rice and the raw fish. I recommend Miola as the most appropriate product not only for cooking good rice but also for cooking antibacterial sushi rice.
Introduced in the entire corpus of sushi skills as a recommended product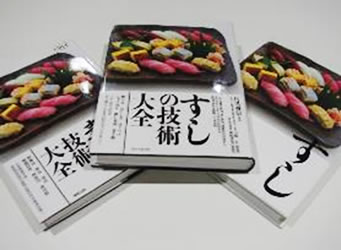 Suihan Miola is also introduced as a recommended product in the Sushi-no-Gijutsu Daizen (the entire corpus of sushi skills) written by Hidenobu Meguro, the owner of Yoroshiku Sushi in Inagi City, Tokyo.
This corpus covers the skills for traditional Japanese sushi from Edo-mae Nigiri-zushi (Edo-style hand-rolled sushi) and Oshi-zushi (pressed sushi) to Bozushi (rod shaped pressed sushi) as well as how to fillet fish.
Tadashi Yamagake, Chairman of the All Japan Sushi Association recommends this book as it helps master all the skills necessary for sushi chefs.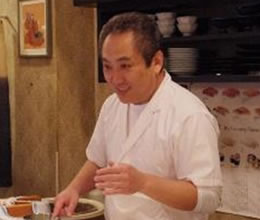 Yoroshiku Sushi
Hidenobu Meguro, Owner
Suihan Miola and Suihan Miola Gold are used in many sushi restaurants across Japan.
Sansui (Saitama City, Saitama)
Yagura Sushi (Yodogawa Ward, Osaka)
Yagura Sushi (Kanzaki City, Saga)
Also widely used in many food service industries as well.
Adoption to gas-cooked rice
Example of adoption to continuous auto rice cooking
Delicatessen, Chiyoda Ward, Tokyo

Japanese food restaurant,
Kitakami City, Iwate

Packed lunch shop, Izumisano City,
Osaka

Packed lunch shop, Osaka City,
Osaka

Miola could solve problems as follows:

Because the rice we used was rather sticky, it was difficult to mix the vinegar.

The rice grains became distinct, so it was easy to mix vinegar with the rice.

We were troubled about the rice cooked by unskilled persons because it was soggy or lumpy.

Because of Miola, we can always successfully cook good rice, and the texture and taste were improved.

We sometimes had to cook additional rice in a hurry, and so we did not have enough time to immerse the rice in water.

With Miola, we always successfully cooked good rice whose grains were fluffy to the core.

The condition of cooked rice was not even because of the season or temperature.

With Miola, we always had evenly cooked rice.

Shintomi Foods Co., Ltd. Tachikawa City, Tokyo

We cook a huge amount of rice every day, and the condition of the cooked rice changes from day to day at the time of rice changeover or depending on the season. By using Miola, we have stable, shiny cooked rice. By increasing the amount of Miola, the cooked rice is very good for rice balls because the grains are more distinct.

Suihan Miola solved problems as follows:

We want to cook better rice every time. We want to cook it successfully irrespective of the seasons and changes in temperature.

Solution by the use of Suihan Miola

The cysteine protease papain works on the proteins of the surface of rice grains so that moisture can be absorbed quickly and evenly, which leads to stability in the quality of cooked rice. In addition, the enzyme α-amylase, which decomposes the starch of rice into sugar, works on making rice less sticky and sweeter when the rice is cooked.