Rice Improver Miola
The enzymes work on rice to increase the "water absorption"
and promotes "convection of water" while rice is cooked.
Even if you cook the same quantity of rice with the same quantity of water every time, it is impossible to cook the most excellent rice unless other conditions are met. For one thing, the quantity of water and the time for immersion of rice into water have to be adjusted depending on the moisture contained in the rice.
Miola helps increase the water absorption of rice by the power of the enzymes contained in it and also improves convection of water while rice is cooked, which enables you to cook good rice at all times.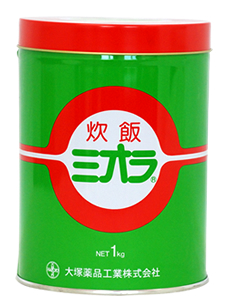 Features of Suihan Miola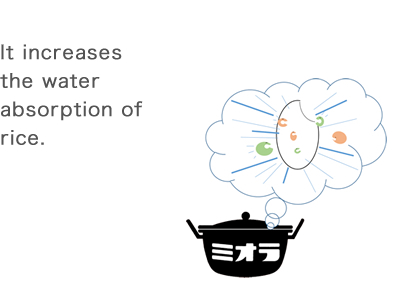 The enzymes work on the inside of rice grains so that moisture can be absorbed to the cores of the grains quickly.
This enables a substantial reduction of time for immersion of rice into water, which means that you can control the timing of cooking rice.
Moreover, unsteadiness of the water absorption is reduced, which leads to the stable quality of cooked rice even if there is any fluctuation in operations.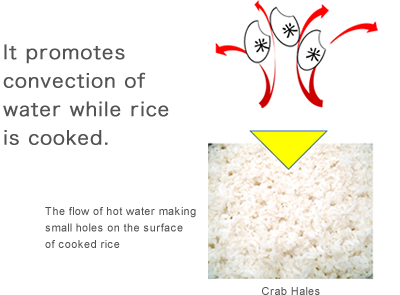 The enzymes work on the surface of rice grains to prevent them sticking to each other.
This helps promote the flow of hot water between grains, which makes small holes on the surface of cooked rice like ones made by crabs on a beach, called "Crab Holes". Appearance of "Crab Holes" is the proof that hot water was circulated well during cooking rice.
As each grain of rice is heated well, the best rice is cooked. As the grains of rice cooked in that way are distinct, you would feel the rice is not so sticky when you use a rice scoop.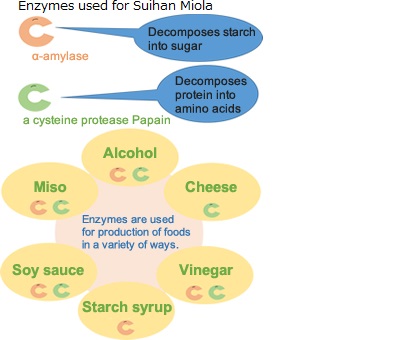 The power of enzymes decomposes starch and protein.
The two enzymes that have the actions as follows are blended in Suihan Miola:
・Decomposing starch into sugar (α-amylase)
・Decomposing protein into amino acids (a cysteine protease Papain)
Enzymes are widely used for production of foods, including miso and alcohol.
You can cook good rice easily by the power of those enzymes.
Effects of Suihan Miola
Owing to the power of the enzymes mentioned above, Suihan Miola can produce the effects as follows:
Fluffy rice is always cooked.

It complements cooked rice's intrinsic taste.

The nice taste of cooked rice is retained even after the rice gets cold.

Cooked rice becomes less sticky, which makes it easy to hand-form the rice.
How to use Suihan Miola
By adding a teaspoon of Suihan Miola to rice (1-2 g for 1 sho (1.4kg) of rice) before cooking it, you can cook good rice easily.
1

Wash rice with water.

2

After immersing the rice into water the quantity of which is adjusted properly, add a teaspoon of Suihan Miola to the rice.

3

Put the cooker (or the pot) over heat and cook the rice as usual.

4

Fluffy and shiny rice is cooked!
For samples of or orders for our products, please contact us as follows: